ILMiXor
ILM's 2005 collaborative mix project hoonja-doonja!
September 12, 2005
September 11, 2005


'I am the ghost captain.' (Lee Perry)

Cavernous, Dark Dubstep. The Product of Glasgow (Kode9, the producer) + Jamaica (the vox) + Coventry (the source) + India (samples) = The sound of (South) London. It couldn't have come out of anywhere else.
September 08, 2005
An Irish icon covering an Irish icon. Folk singer Luka Bloom released this song on his 2000 LP of cover songs called Keeper of the Flame. When selecting material to cover he was disappointed that he couldn't seem to find a song from another Irish icon, Van Morrison, that suited him but he suggests that this U2 song found him at a memorable time away from home:

"It was winter, 1988. Do the gig at the Red Lion in Greenwich Village and decide to take the night train back to D.C. I'm in Penn Station at one a.m. It's a very sad and scary scene there -- many walking wounded, cold, huddled, mumbling casualties. By the time the train pulls in, I'm in a dark place inside. I sit on the train and take out my walkman. As the train pulls out of Penn, I stumble across a radio station, the opening notes of the Edge's intro ease into my ears, and I instantly feel connected to something serene and beautiful. I leave the New York skyline to the sound of 'Let it go, and so to fade away...' Somehow, all was well in the world again. I was meant to hear this song, in this way, at this moment. And so it is one of my very favorite songs of all time. I could never have imagined that 12 years later I'd be singing it, celebrating it, passing it on."
Hearing a familiar song while alone in a foreign land can have an incredible power. It is almost like enjoying the warmth and comfort of an old friend. Hurrah for music.
September 07, 2005
From Brazil we make the transatlantic journey and land on the island of Gorée, the westernmost point of Africa and former center of the slave trade. This excerpt combines two separate segments from the full 17 minute piece.
September 06, 2005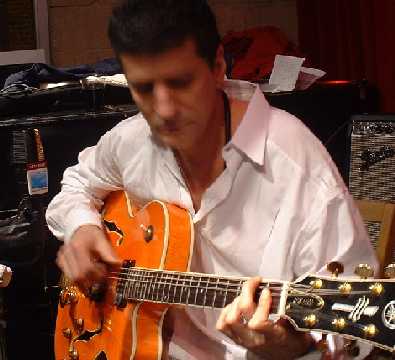 Vinicius Cantuária makes dream pop, 21st Century Nova Bossa Nova, fragile love songs coated in dubby sugar. He ought to be the biggest Pop Star in the world; maybe, somewhere, he is.
Speaking of fake authenticity, here, courtesy of producer Murcof (from Tijuana, Mexico), we have recontextualized Morton Feldman uneasily looping through rain-slicked yet impeccably focused Hitchcock streets. It is a bit of a crime to take a piece of what is such a well-conceived and well-regarded piece of musical DNA (the 2002 album Martes), but there you have it. This music excels not only on the level of dubbed-out horizontal micro-house, but as a first rate example of an inclusive reach backward to the original "classical avant-garde" whose techniques and ideas loom large over modern laptop techno sounds. That it is so engaging on a level outside such scholarly pusuits is another game altogether.
September 05, 2005


There was a time in 20th century American history when the Polynesian Chinese restaurant was all the rage. In stark contrast to today's no-nonsense, decorless noodle shops, the Polynesian Chinese restaurant was high tack, all lipstick-red carpeting and brass statues of fire-breathing dragons. Some restaurants had aquariums with exotic fish; some had pebble-strewn fountains adorning the dining area. The food never strayed particularly far from your parents' American-Chinese favorites, but there might have been a pineapple ring on the plate, to satisfy the "Polynesian" requirement.

As I was growing up, these places were dying out. 1980s restaurantgoers found the caricaturishness offensive, and they wanted their experience to be guilt-free (if not completely unassimilated).

The same was happening with the Disney brand around this time. And although Disney took at least another decade to become synonymous with baptism-by-Noxema, its science project EPCOT Center was chipping away at the spirit that made the eponymous Anaheim park so iconic: its warped sense of adventure, its passion for surrealist children's-fiction, and its thirdhand knowledge of the far-flung.

Hilary Duff's Tiki room isn't one of rumbling, soundstagey Arthur Lyman- like war drums, or menacing monolith monsters with wide eyes frozen open in stone. Hers is a fake authenticity that builds on the premise of an older fake authenticity, while removing the scary edges. And since her very young demographic doesn't come equipped with reference-knowledge of Easter Island and mid-century cod-kitsch and so on, the multiple levels of removal are meaningless to them.

But in a way, their cognitive tabula rasa puts them at an advantage over me; they're free to come up with a whole new arsenal of ridiculous constructs.
September 01, 2005
A new obsession of mine is dub. I stumbled headlong into the music through my best friend's band and found the love crystallized when I befriended some DJs heavily into dub, dancehall, and roots reggae. I have plenty of not-so-fond memories of the music. Growing up, my neighbors were notorious for their Saturday night parties where they would treat the block to their basement soundsystems, pissing off most of the houses around them.

My pick is in Japan, one of the major homes of reggae music. It's such a giant market that there are special dub plates made there that never make it to other sections of the world. I stumbled across Dry & Heavy trying to find some dub remixes. The drum and bass duo of Shigemoto Nanao aka Dry and Takeshi Akimoto aka Heavy make experimental roots reggae with help from friends. This song features the vocal stylings of Likkie Mai and the gentle waves that lull you to a comfortable zone. Music to think or smoke to. Music to comfort the soul.
&nbsp